C
Exactly two years ago, in early 2017, the actor Mahershala Ali and his wife were about to give birth – one after the other. "It's something we still joke about," says the 44-year-old American, sitting in a London hotel, smiling at the memory. "My wife was pregnant with a baby. And I was pregnant with an Oscar."
The actor knows that sounds glib. He knows that however exciting or worked-for an industry prize – Ali won his best supporting actor award that year for a standout performance in the coming-of-age drama Moonlight – nothing compares to the graft of bearing an actual child. But aspects of the comparison stand. There's a lot of build-up and then things go crazy all at once. Taking home a newborn, like taking home an Oscar, turns life on its head. And forget about sleep. Ali's wife, the artist Amatus Sami-Karim, gave birth to their daughter, Bari, that February, and 100 frazzled hours later Ali was on stage at the Dolby Theatre in Hollywood, looking blinky and delighted, and bringing an audience of grandees to their feet when he croaked: "I just wanna thank my wife."
It was a week that changed everything for Ali. Until then he'd been an auxiliary guy, a well-thought-of actor who didn't often get his name on the posters and who was probably best known for his regular appearances in Netflix's House Of Cards. Ali had a fun if slightly underwritten role as the Washington fixer Remy Danton, a job he quit when the show was at its peak – wanting to take one last shot at becoming a leading actor before it was too late. Moonlight, in which he was a taciturn drug dealer, a character who appeared only fleetingly but whose presence hung over the whole movie, suggested Ali had the chops for lead roles. The Oscar win in 2017 pushed him over the top, and in the two years since then Ali has juggled parenthood with work on two huge new productions due out this month – the third season of HBO's prestige procedural True Detective and the awards-tipped biopic Green Book, about the pioneering African American pianist Don Shirley.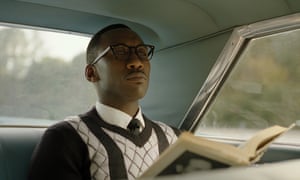 I want to talk to Ali about Green Book, a rich and affecting film which last week won best comedy or musical at the Golden Globes; Ali picked up the award for best supporting actor. But first, I'm curious to know what happened next in the Ali family home, when a newborn and an Oscar came home within hours of each other.
He considers his answer carefully. The actor is an observant Muslim, a thoughtful guy who speaks in long, unhurried sentences. Combined with today's outfit – a navy blue kimono-like gown, buttoned to the throat – it projects a potent sense of spiritual calm. Ali says that having the baby and the Oscar "was like a jigsaw puzzle which my wife and I had to try to put together. And as soon as we felt like we'd figured it out, it changed. It took a lot of listening to each other. Reacting. Every now and then we had to hit a tuning fork, to make sure we were in sync."
Throughout a 10-month shoot on True Detective, Ali's wife and daughter travelled from the family home in Los Angeles to the set in Arkansas as often as possible. After that, he was straight on to Green Book, which was based in New Orleans, and here the young family were able to snatch some life together between days on set. And after that? Ali says he just stopped saying yes to jobs. His wife needed time for her own career as an artist. The couple hit the tuning fork – and the tuning fork said it was blatantly her turn. They moved back to Los Angeles. "You get to the point where you think: 'If I were to accept the next thing I'd be throwing off the balance of my family.'"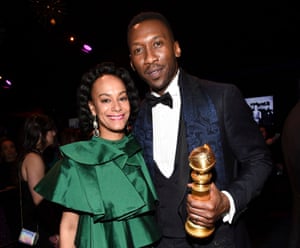 Ali talks a lot about balance. Central to the appeal of playing Don Shirley in Green Book was that here was a historical figure all out of whack, a man blessed with enormous musical talent but with no clear place in the world he inhabited. Shirley rose to prominence in New York in the 1960s, becoming such a fixture at Carnegie Hall that he ended up living in a grand apartment above the main auditorium. "The more he had, the more he attained," Ali says. "He still couldn't get away from his isolated existence, because he was sort of a man beyond his time. You think about the Michael Jacksons of the world, the Princes, people so exceptional and extraordinary they almost have alien status."
Green Book, which also stars Viggo Mortensen, plays out as a road movie. Mortensen is Tony "Lip" Vallelonga, an Italian-American bodyguard who is hired by Shirley to provide protection on a risky tour through the Jim Crow-era South. The film is based on real-life events, though both Shirley and Vallelonga have since died, and controversy brewed last year when Shirley's surviving relatives questioned Green Book's accuracy. Was the musician really such an aloof figure, estranged from his family, from mainstream black culture, from the black politics of the era, as Green Book insists? Shirley's brother and nephew wondered why they hadn't figured in the writing or the production of the film, calling it "a symphony of lies", while Vallelonga's son has a screenwriting credit. Late last year, Ali telephoned the Shirley family to apologise for not consulting them first.
What seems beyond question is that the pianist was a man who struggled to fit in. Ali's take is that "he was someone who was not black enough for the black community. He was not white enough to be accepted in his profession. And he was not ready to be embraced by society because of how he identified sexually."